Leave a Comment
Because looking and feeling fantastic matters!
Since launching Charlie Miller Haircare at the end of 2018, we have received some wonderful comments about the range. Clients, bloggers and influencers alike have shared their thoughts and given it 5 star reviews.
Our full range of paraben and sulphate free shampoos and conditioners is available to buy online here and in all 4 salons in Edinburgh. Pop in today to discuss the right Charlie Miller Haircare shampoo and conditioner for your hair type.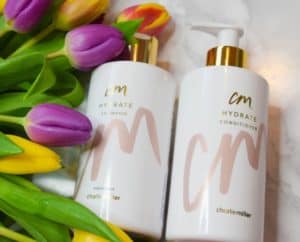 "First impressions were that the range smells absolutely incredible – it also left hair feeling clean and hydrated without being weighed down." Lauren Dall – Edinburgh Lifestyle Blogger
"Both these products are a joy to use, they smell gorgeous and the shampoo still gives a nice lather which some SLS free shampoos sometimes don't. The Hydrate conditioner is lovely too, it leaves my hair super soft and bouncy!" Trona Freeman – Lifestyle blogger
"Thank you for keeping my hair a vibrant red. Both the shampoo and conditioner in Hydrate have given my hair some extra shine. With amazing scents and beaut results they're ones to add to your must-haves!" Rosalind Main – Model, artist, activist
"I seriously love these products. I can speak for the Hydrate range when I say I honestly can't believe how shiny it's made my naturally dry & frizzy hair." Aoife Malone – Edinburgh Lifestyle & Fashion Communicator
"I came away with some amazing products, including the Charlie Miller Silver toning shampoo which I've been using at home and I love! I'm sometimes slightly terrified by purple shampoo but this one is great and really maintains a lovely colour!" Sarah Ferguson – Edinburgh Lifestyle & Fashion Blogger
We'd love to hear your thoughts on our haircare range and your salon experience, please share any feedback you have by leaving a review on Google or on our Facebook page.
You can also keep up to date with all things haircare on Instagram.