Leave a Comment
Charlie Miller launches Volume Spritz in salon and online. Simply spray onto your hair to help give it a fuller, thicker look. You'll find it also adds natural body and lift without weighing it down. Let your hair do the talking.
Following on from the successful launch of other Charlie Miller products our Volume Spritz is a perfect add-on to the range.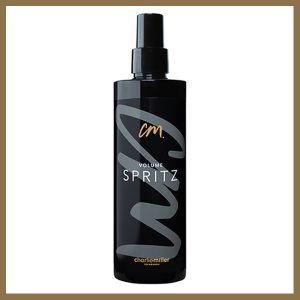 Salon Manager at Holy Corner, Amber Swift swears by it:
"Volume Spritz is my favourite go-to styling product. I just love the way it absorbs into the hair. It gives great hold and form as well as adding oomph. The fragrance is awesome with Calendula Oil for hydrating & protecting the scalp and Jasmine Oil to add moisture for optimum shine. It's fab to apply to dry hair, spritzing on and drying in for a firmer day to night look. I love it."
Key benefits:
Volume Spritz is formulated with Jasmine Oil to lock in and maintain natural moisture and elasticity. It also contains calendula Oil that will help protect, hydrate and improve your hair and scalp. Silicone free and sulphate and paraben-free, it's a treat for your hair.
With it's refreshing floral fragrance, Volume Spritz will also delight your senses. With clean top notes of green tea, orange and lemon combined with soft jasmine, rose and lily, gentle herbs, musk and oakmoss you're sure to love the scent.
The expansion of the Charlie Miller haircare range has been the ultimate goal for Joint Managing Directors, Jason and Josh Miller. "We're thrilled to be expanding our product range and couldn't have anticipated the amount of success that it has already received. It's a dream come true!"
Volume Spritz and all other Charlie Miller styling and haircare products are available in Charlie Miller salons or online at www.charliemillerhaircare.com.
To find out about all new product launches and to keep up with all things Charlie Miller, don't forget to follow us on Facebook, Instagram and Twitter.